Whether it's your first time cooking Christmas dinner, or you're looking to step away from your age-old favourite recipes, you must never overlook the importance of the side dish. 
Roast parsnips and carrots are essential, but other winter vegetables, including red cabbage and butternut squash, give variety and colour. 
Jamie Oliver's Christmas Cookbook covers the essential recipes you need, from party nibbles to turkey leftovers and everything in-between, and reinvents the classics, from Christmas pudding to baked Alaska.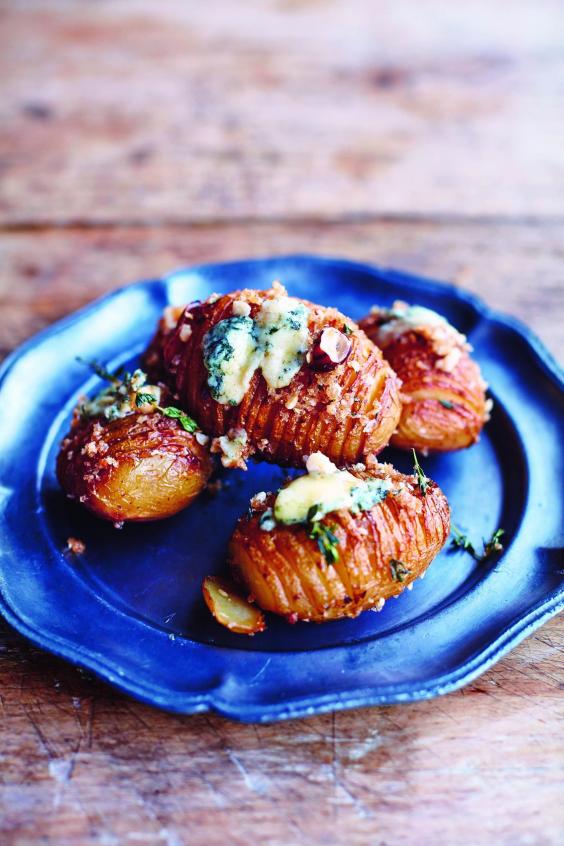 Give roast potatoes a break and go for this impressive alternative
Hasselbacks 
turkey dripping, blue cheese and crushed hazelnut crumb
These sexy, little beauties are super-fun to make, look amazing, loads of people will never have seen or enjoyed them before and the flavour combination here just cooks into the potatoes so, so well. People. Will. Talk. About. These.
Total time: 1 hour 15 minutes
Serves 10 as a side
2.5kg Maris Piper potatoes (choose the smallest ones)
½ bunch fresh thyme (15g)
4 tbsp turkey dripping or olive oil
50g stale bread
40g hazelnuts
100g blue cheese
Preheat the oven to 180°C/350°F/gas 4. The fun and unique part of this side dish is that you need to slice multiple times through the potatoes, but – importantly – without going all the way through, giving you a kind of concertina-style potato. This looks beautiful but also makes them wonderfully absorbent of flavour and amplifies their crispiness. Try to choose small potatoes, give them a wash, and if you have any larger ones, cut them in half and use the flat side as a base.
To make this process as simple as possible, place a potato on a board between the handles of two wooden spoons, so that when you slice down into the potato the spoons stop the blade from going all the way through. Carefully slice at just under ½cm intervals all the way along. Repeat with all the potatoes, placing them in a large roasting tray as you go. Pick half the thyme leaves and put into a pestle and mortar and pound with the turkey dripping or oil. Spoon the mix over the potatoes, making sure the fat gets down into the cuts you've made, then season with sea salt and black pepper. Roast for 1 hour, or until the potatoes are golden and tender.
Meanwhile, tear the bread into a baking dish, add the hazelnuts and toast in the oven for 10 minutes. Remove and allow to cool, then tip into a food processor, strip in most of the remaining thyme leaves, add a pinch of sea salt and black pepper and half the cheese, and pulse into coarse crumbs.
When the hour is up, sprinkle the crumbs over the potatoes, then finely crumble a little bit of the remaining blue cheese on to each one. Dress the rest of the thyme sprigs with a tiny bit of oil and sprinkle randomly on top. Return to the oven for a final 10 minutes, or until the cheese starts to melt, then serve.
Get ahead: You can cook these in advance up to the point where they're roasted and sprinkled with the toppings, then just finish them off when you're ready, ensuring that they're hot and crisp before serving.
Calories

Fat

Sat fat

Protein

Carbs

Sugars

Salt

Fibre

297kcal

 

11.6g

3.3g

7.7g

43.2g

3.6g

0.5g

5.2g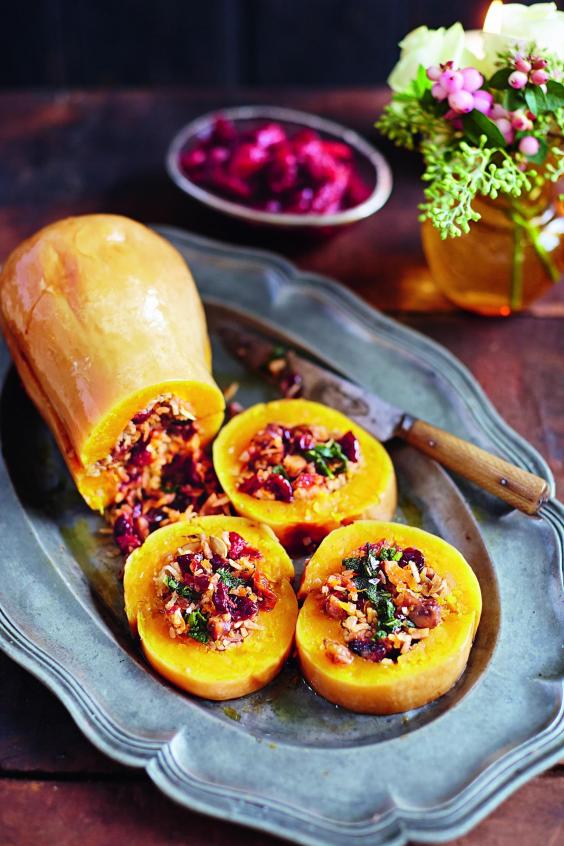 This more substantial side also works as a nut-loaf alternative for vegetarians
Baked squash
stuffed with nutty cranberry-spiked rice
Based on a beloved old recipe of mine, this method really takes advantage of stuffing and slow-roasting the sweet, versatile squash. You get wonderful flavours exchanging in the centre, great textures and the slices look amazing.
Total time: 2 hours 30 minutes
Serves 6 as a main or 10-12 as a side
1 butternut squash (1.2kg)
olive oil
1 red onion
1 clove of garlic
1 bunch fresh sage (30g)
10 sun-dried tomatoes
75g vac-packed chestnuts
75g basmati rice
75g dried cranberries
1 pinch ground allspice
red wine
Preheat the oven to 180°C/350°F/gas 4. Wash the squash, carefully cut it in half lengthways, then remove and reserve the seeds. Use a spoon to score and scoop some flesh out, making a gully for the stuffing all along the length of the squash.
Finely chop the scooped-out flesh with the seeds and put into a frying pan on a medium heat with 2 tablespoons of oil. Peel, finely chop and add the onion and garlic, stirring regularly while you pick the sage leaves and finely chop them with the sun-dried tomatoes and chestnuts. Stir into the pan with the rice, cranberries and allspice, add a good pinch of sea salt and black pepper and a swig of red wine, and mix well. Fry for 10 minutes, or until softened, stirring occasionally.
Pack the mixture tightly into the gully in the two squash halves, then press the halves firmly back together. Rub the skin of the squash with a little oil, salt and pepper, and if you've got them, pat on any extra herb leaves you have to hand. Place the squash in the centre of a double layer of tin foil, then tightly wrap it up. Bake for around 2 hours, or until soft and cooked through.
Once ready, take the squash to the table and open up the foil in front of everyone, then carve into nice thick slices and serve with all the usual trimmings.
Calories

Fat

Sat fat

Protein

Carbs

Sugars

Salt

Fibre

300kcal

 

8.9g

1.3g

5.1g

51.1g

22.2g

1.2g

6.5g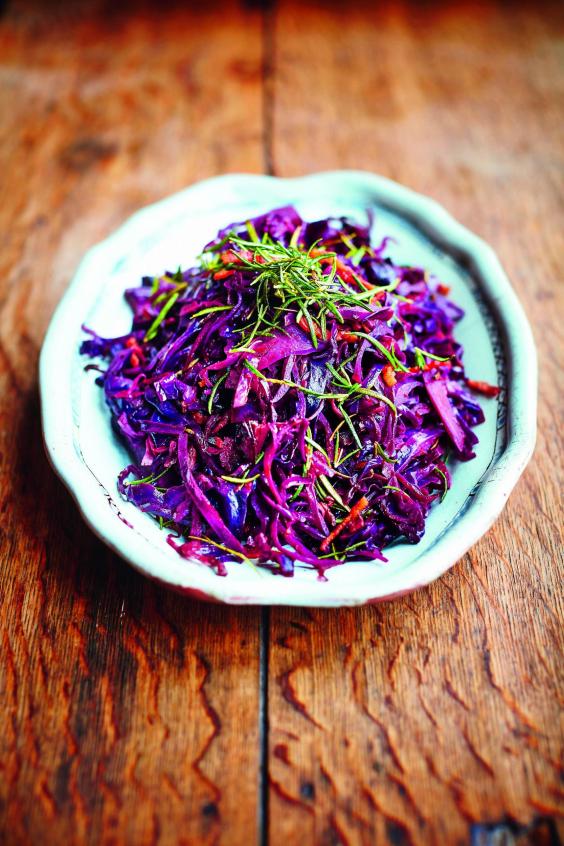 Add a dark shade of purple to your festive table with this cabbage
Red cabbage
crispy smoked bacon and rosemary, apple, fennel seeds and balsamic 
Celebrating one of the most affordable veg out there – the humble red cabbage – this is a really delicious, classic veg dish. Wonderful as it is hot, I also love it cold, almost like a salad, with meat and cheese, so embrace those leftovers.
Total time: 35 minutes
Serves 8 to 10 as a side
1 red cabbage (1kg)
4 rashers higher-welfare smoked streaky bacon
olive oil
2 eating apples
2 sprigs fresh rosemary
1 heaped tsp fennel seeds
100g dried prunes
1 clementine
6 tbsp balsamic vinegar
Click away any tatty outer leaves from your cabbage, trim off the base, cut the cabbage into wedges, then finely slice it and put aside. Finely slice the bacon and place in a large casserole pan on a medium heat with 1 tablespoon of oil. Leave it to crisp up while you peel, core and dice the apples.
When the bacon is crispy, strip the rosemary leaves into the pan, stir for 1 minute, then use a slotted spoon to remove the bacon and rosemary to a plate, leaving the smoky bacon fat behind. Add the fennel seeds and diced apples to the pan, then tear in the prunes, removing any stones.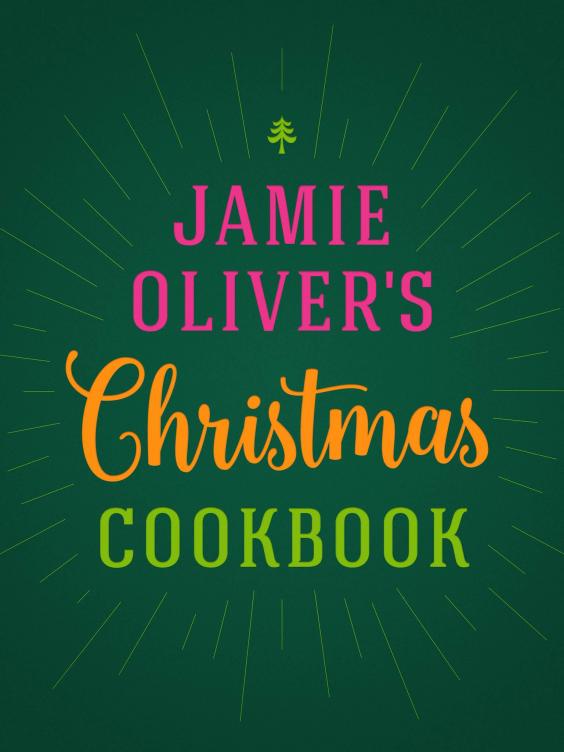 Stir and fry for 2 minutes, then finely grate in the clementine zest and squeeze in the juice. Add the vinegar, cabbage and a pinch of sea salt and black pepper.
Cook with a lid ajar on a low heat for 20 to 25 minutes, or until cooked through and a pleasure to eat, stirring well every 5 minutes to help intensify and mix up the flavours. Serve sprinkled with the crispy bacon and rosemary leaves.
Get ahead: Make this the day before and simply reheat it in a pan – it'll taste great, but if you do this I'd recommend stirring the bacon and rosemary through it rather than serving them on top as a garnish.
Calories

Fat

Sat fat

Protein

Carbs

Sugars

Salt

Fibre

96kcal

 

 

2.6g

0.4g

2.4g

16.2g

15.6g

0.4g

3g
Jamie Oliver's Christmas Cookbook, is published by Penguin Random House ⓒ Jamie Oliver Enterprises Limited. Photographer: David Loftus
Reuse content